「Kinomoto Lacquerware Store」
■Prices (excl. tax)
Gold Lacquerware Hand mirror: 1,200 yen
Ball Point Pen: 1,500 yen
Lacquerware Chopsticks: 1,300 yen
Black Lacquerware Glass Wind Chime: 1,200 yen
Paulownia Doll Decoration (14 types to choose from): 1,200 yen
Other items also available.
■Access


By Car: 30 min from Aizuwakamatsu IC (Parking available)

By Train: 7 min walk from Kitakata Station on the Ban-etsu West Line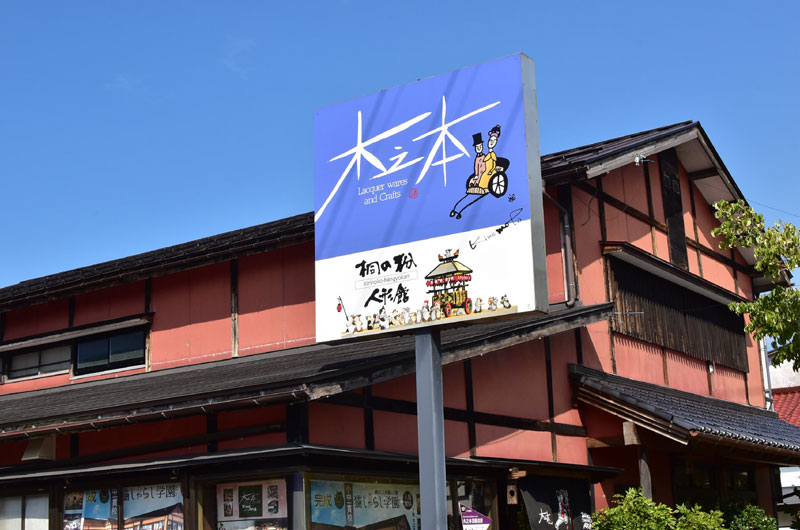 "Kinomoto Lacquerware Store" sells traditional gold lacquerware that is made using a technique called Makie, famous in the Aizu region. Each item is handmade by the store's artisans, who each have their own specialty – from cats to koi carp – each item reflects their personality. Just fantastic!


There's a display of little cats and animals from the Chinese zodiac sitting in a paulownia house. There are also Makie (gold-lacquered) glasses and paperweights which make perfect little presents.
Customers can even try their hand at Makie or doll decoration (reservation is required).

「What is Makie?」
For over 400 years, the people of Kitakata have been perfecting the art of Makie, a technique which involves decorating lacquerware with waves, koi fish (carp), sea or flower designs and then painting them in silver, red, and other traditional colors.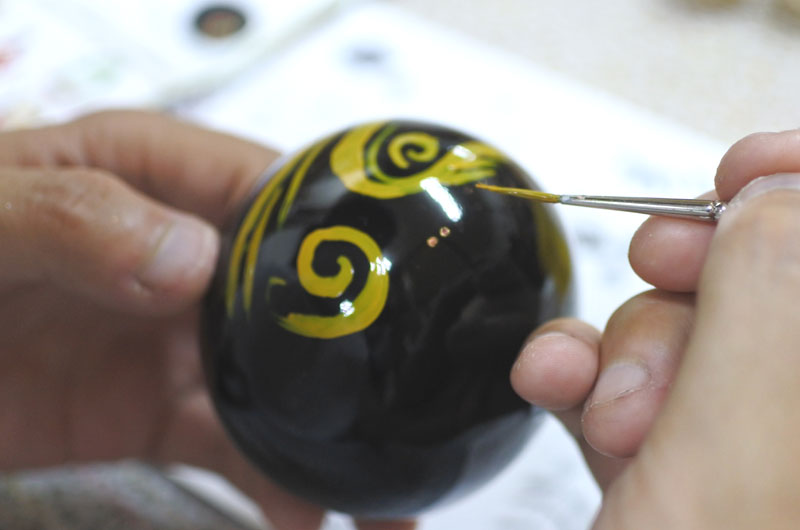 Groups of up to 30 can take part in the Makie workshops.
Participants can choose from 14 different items to decorate, such as a hand mirror or a pen. I went for a black lacquered bell. I had heard that Makie is difficult so I was nervous, but I tried my best! Even with a sample to copy, I soon learned why this is a job for professionals – I struggled to use the delicate paintbrush and create a balanced design. But the staff were very patient and guided me gently. I tried to create a wave and koi carp design… what do you think?? Maybe it's silly, but I felt really proud of my work!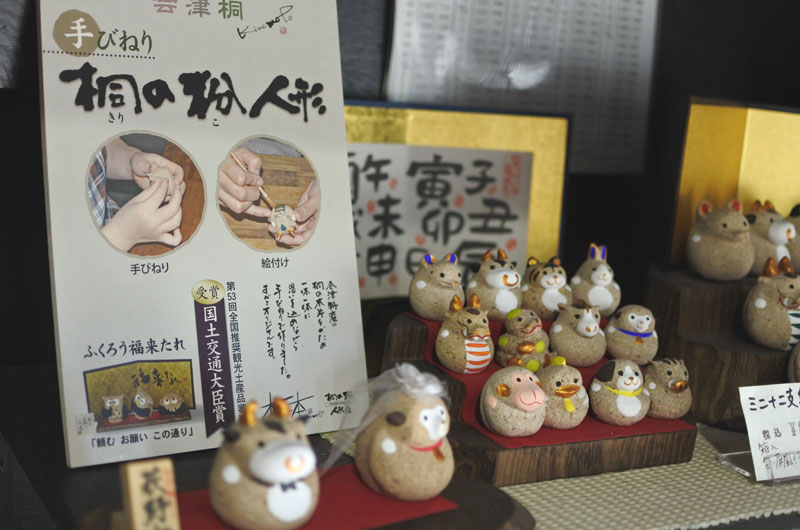 I also had a go at the paulownia doll decorating. I wasn't sure exactly what this was, but apparently, it's a traditional Aizu craft made using a type of clay that is made from paulownia wood powder, mixed with ramen powder, and shaped into a doll. I suppose since Kitakata is so famous for ramen, they have a lot of spare ramen powder lying around! We take our pick from the 14 animals – the 12 Chinese zodiac animals, plus a frog and an owl.

Since each doll is small, we got to choose two dolls to decorate – which seems like a good deal to me. I chose the Monkey and the Boar, both zodiac animals. Paulownia dolls are a little rough to the touch, but I soon got the hang of decorating the doll with acrylic paint. It took me back to when I was a kid – a little while ago now! Just like with the Makie before, I used the brush to paint little hands and faces. The samples were really beautiful. But I felt I was doing better with the doll than I did with Makie earlier! The finished doll fit in the palm of my hand and looked rather cute.
Both Makie (lacquerware decorating) and the doll decoration each took about an hour to complete, and although you have to wait for the paint to dry, you can take your items home the same day.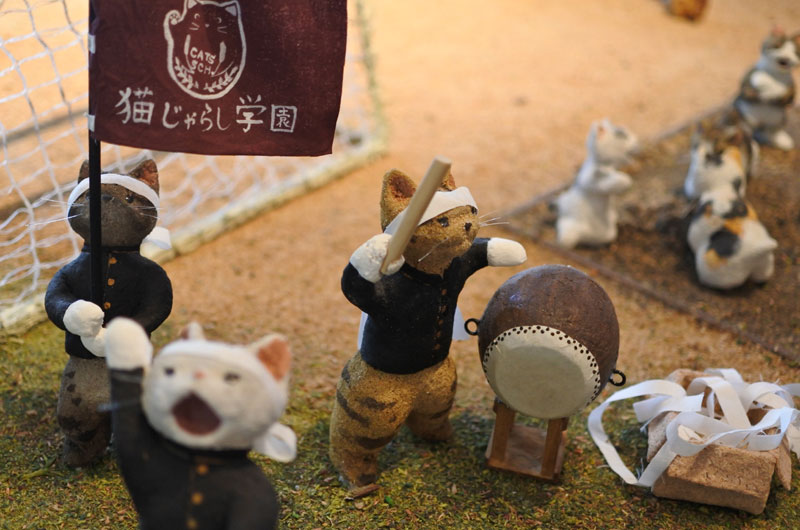 While I was waiting, I took a look around the shop, and spotted some cat paulownia dolls. There was a small-scale model of a school, with several lifelike dolls on display. A staff member saw me admiring it and suggested I take a look upstairs. I went upstairs and discovered an exhibition hall showcasing a whole display of miniature buildings and paulownia dolls inhabiting them. Every one of them hand-made!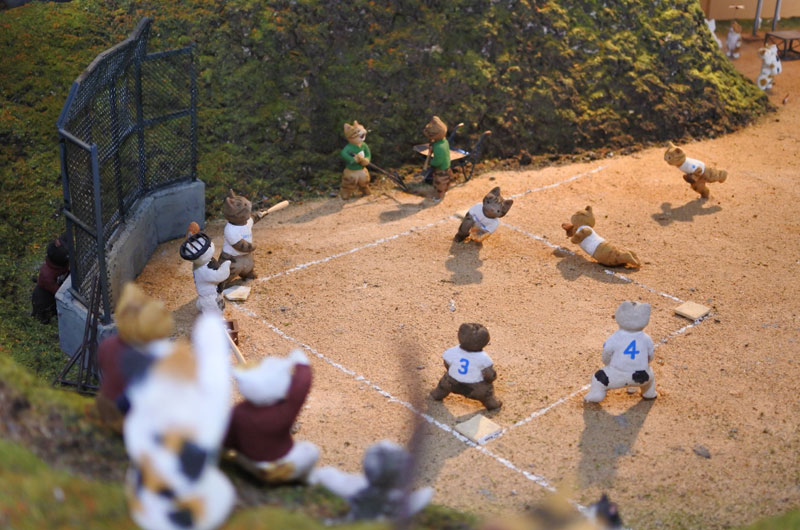 In the "Cats School" diorama, there were little cats playing sports and studying. It even had the school song's lyrics painted on the wall! It was a mini wonderland. Not only cats – there were separate scenes with mice, dogs, monkeys, and more. Each one was a heart-warming scene.
Photography isn't usually allowed, but I received special permission to take pictures for this blog, which I'm very grateful for.
Well, it looks like my "works of art" have dried, so it's time for me to take them home.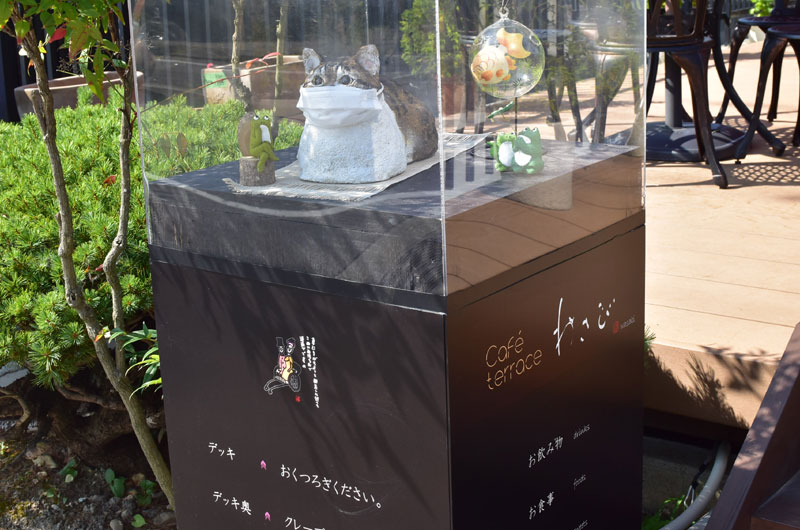 They have a little café next door, so I dropped in. "Café Terrace Wasabi" seats about 50 people and serves curry, crepes and other dishes. The drinks and food are served on the glassware and crockery made in the Kinomoto store just next door. There is a window for takeout, where you can order crepes, shaved ice, and drinks.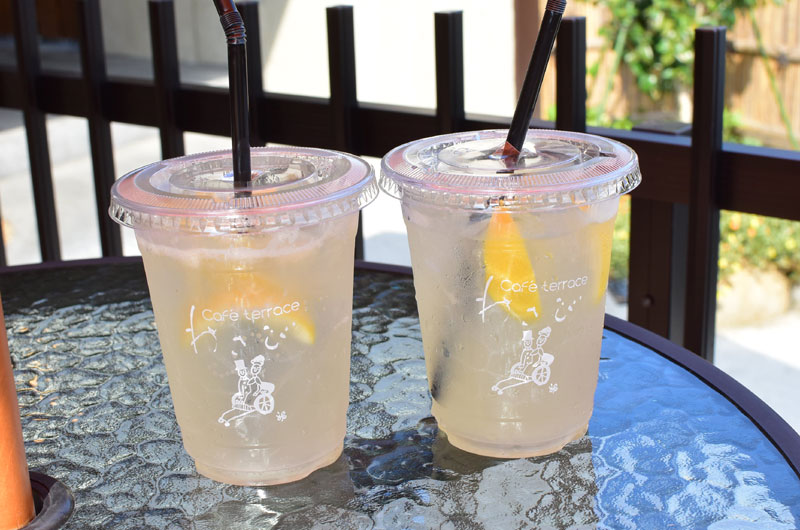 I ordered the lemon "Squash" soda and a lemonade to go. They have outdoor seating, perfect for a sunny day like today! I sat down in the shade to enjoy my drinks. I had a lovely day out trying my hand at traditional crafts in Kinomoto and visiting Terrace Wasabi Café.
It's easy to get to as well, so next time you're in Kitakata, why not head over and buy something to take home? It's suitable for families, couples, and just about everyone – a great place to experience Kitakata!