■Main menu
Shina Soba (Soy sauce base ramen): 700 yen
Niku Soba (Pork ramen): 1,000 yen
Negi Ramen (Scallion ramen): 900 yen
Negi Chashyu (Scallion Pork ramen): 1,100 yen
■Opening Hours
7:00 – 18:00

■Closed
Some Thursdays and New Year's Day
■Access


By Train: 20 mins walk from Kitakata Station

By Car: 30 mins from the Aizuwakamatsu IC exit (Ban-etsu Expressway)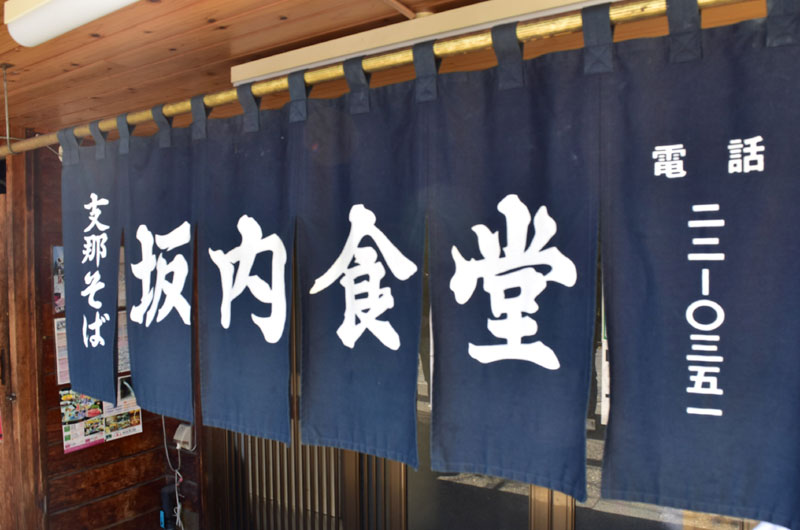 Bannai Shokudo is one of the top three Ramen restaurants in Kitakata City, out of more than 120. It is so popular there is usually a long queue to get in! The original Bannai Shokudo is here in Kitakata City, but there are now branches all over Japan from Hokkaido to Okinawa, and increasingly overseas too, in cities such as Los Angeles and New York.

「Kitakata Ramen」
The top three Ramen types in Japan are Kitakata Ramen, Sapporo Ramen, and Hakata Ramen. Kitakata Ramen has a clear pig-bone broth base flavored with Soy Sauce, giving it a light taste. Although it has a Soy Sauce base, each restaurant adds its own special flavoring, such as salt or Miso. Kitakata Ramen noodles are typically thick, flat and wavy.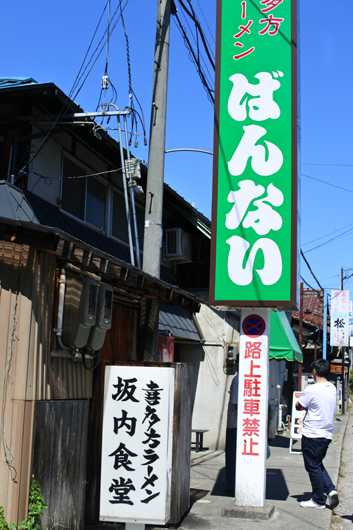 When I got there at 11am, the parking lot was already full! I counted 10 people lined up in front of the big green sign. Although it was a swelteringly hot day, there were still plenty of customers keen to taste the famous Bannai Shokudo ramen.
I was able to enter the restaurant after a 15-minute wait. Stepping inside felt like going back in time to old Japan. Even the menu evoked a feeling of nostalgia. The walls were covered with autographs of famous people who had eaten at the restaurant, proof of its popularity.
The place was jam-packed. The smell of Ramen wafted through the air, making my stomach rumble.
Customers place their orders and pay before being shown to their seat. Everything on the menu sounded delicious, but in the end, I went for the "Shina Soba" (Soy sauce base ramen) and "Niku Soba" (Pork ramen), both of which have been staples for over 60 years.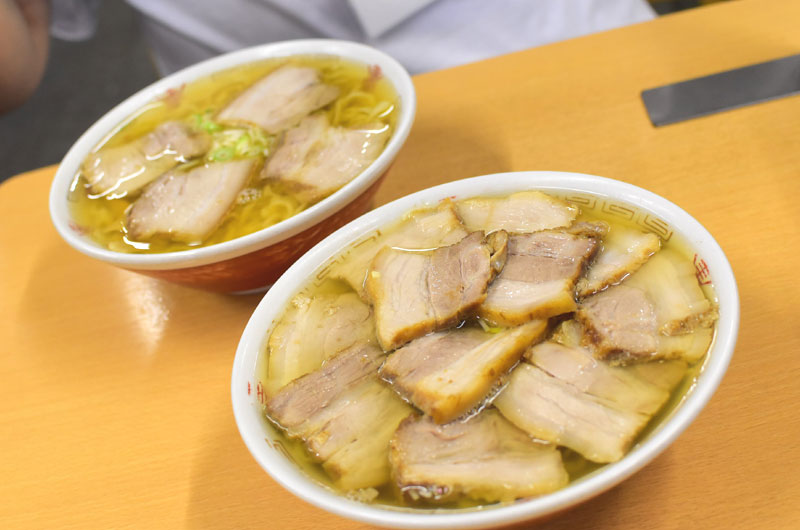 While I was waiting for my order, I took a quick look around and noticed they were selling souvenirs! It's great to be able to take the taste of Bannai Ramen home with you. I later learned that you can order from Bannai Shokudo's website as well.
Finally, my ramen was ready! Despite it being incredibly busy, the waiter brought over my order calmly and carefully.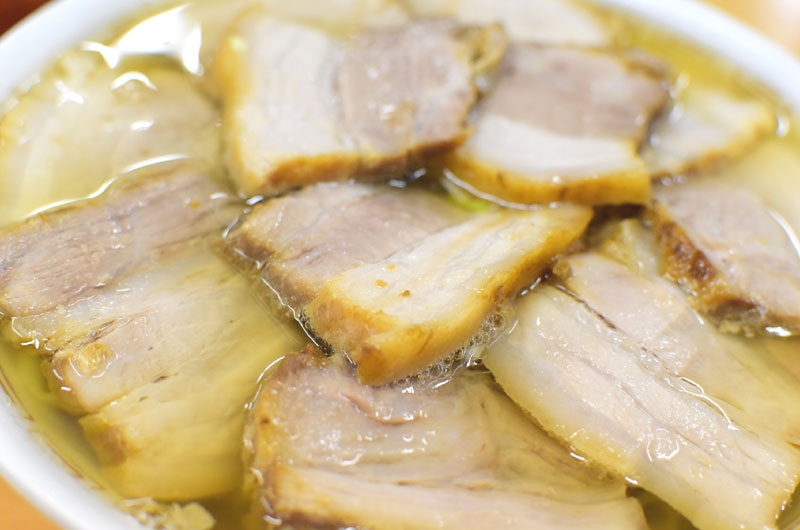 First impressions were good: there was a generous helping of the restaurant's original roasted pork fillet flavored with Soy Sauce. I took a second to enjoy the view. The bowl was filled to the brim with wavy Kitakata noodles submerged in a clear, glistening soup topped with a thick layer of succulent roasted pork fillets.
My mouth was beginning to water…
Time to eat, itadakimasu!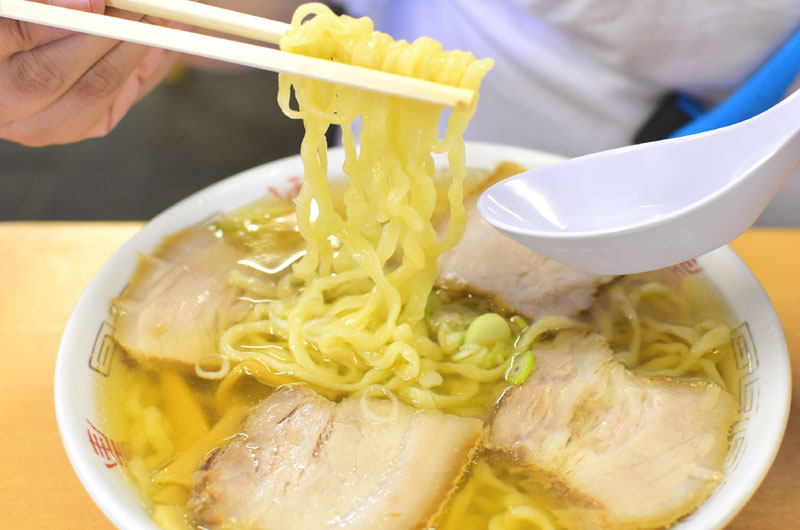 The pork-bone broth was light with a pleasant aftertaste, and perfectly complemented those wavy noodles that everyone raves about. Simply perfect. Although the soup and noodles alone were enough to satisfy my taste buds, the thick slices of pork made every bite perfect. Although it was slightly fatty, it didn't taste at all fatty and left a light taste on the tongue.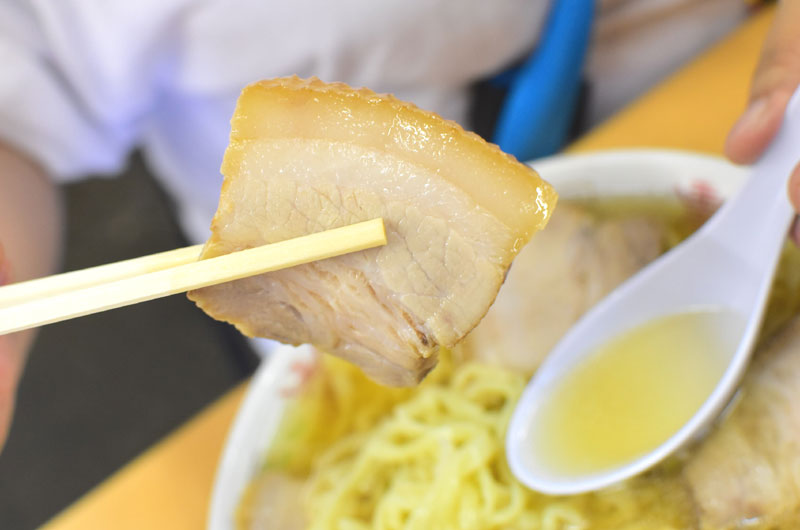 Excess fat is removed when making Bannai Shokudo's roasted pork fillers, so you can eat your fill without stressing about the calories. Although I came here for lunch, I saw a sign for "Asa-Ra" (breakfast ramen) which is also popular. The restaurant opens at 7am. I can see how this soup, which is lighter than other Ramen soups, would make for a good breakfast on a day off. I bet local Kitakata Sake, available to order here, would go well with gyoza and pork fillets. I would definitely come here again – it's well worth the wait!