「Nicchu Line Weeping Cherry Blossom」
■Address
Oshikiri Higashi 2-chome, Kitakata City, Fukushima Prefecture.
(Nicchu Railway Line Memorial Cycling Pedestrians' Path)
■Tel
0241-24-5200
(Kitakata Tourist Product Association)
■Cherry Blossom Season
Mid-late April
■Free entry
■Parking available
(approx. 700 spaces, parking fee applies)
■Access


By Train: 5 mins walk from Kitakata Station on the Ban-etsu West Line

By Car: 30 mins drive from the Aizuwakamatsu I.C. exit (Ban-etsu Expressway)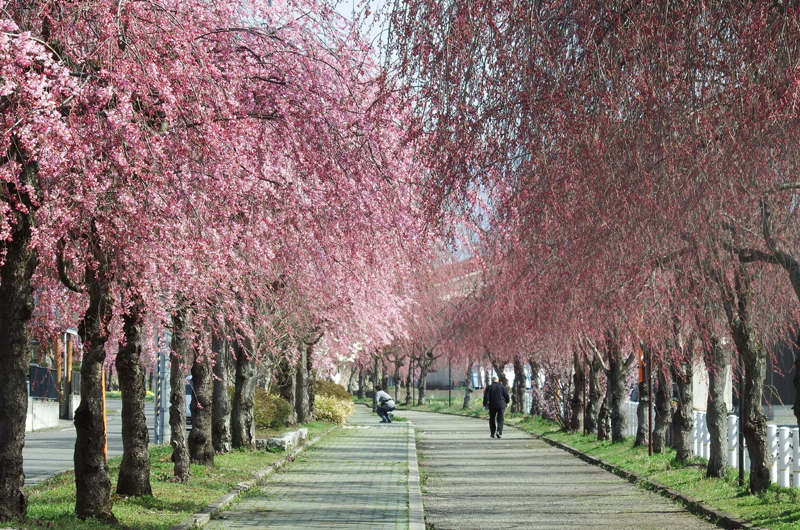 If you're looking for a Hanami (cherry blossom viewing) spot in Kitakata, look no further than the Nicchu Line Weeping Cherry Blossom. Today's weather was perfect for a stroll along the 3km-long path of 1,000 trees in full bloom.
The trees form a tunnel, giving the impression that you are walking through a shower of pink blossoms. Don't forget to take pictures as you are drawn into this fantasy world!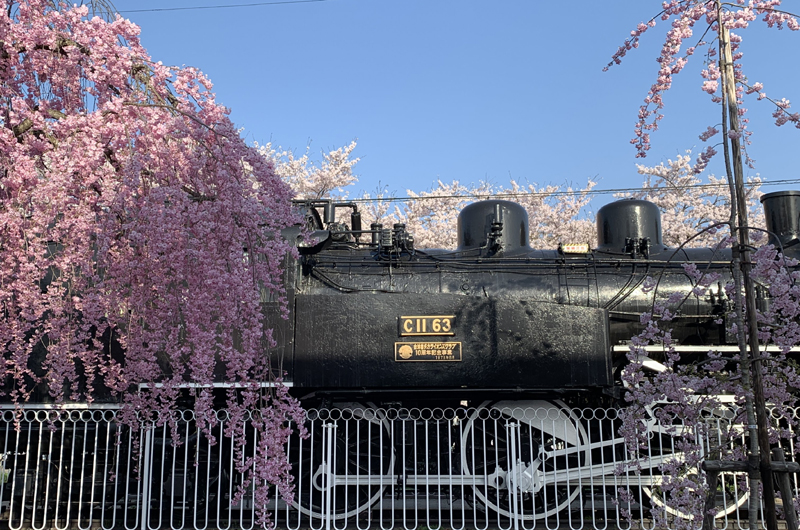 Once the "Nicchu Line" of the national railway, the route is now a designated cycle and pedestrian path. Walking through the breathtaking line of cherry trees, it's hard to imagine that trains once passed through here. In the middle of the line of trees sits an old steam locomotive, giving you a feel for how the railway line once looked. It forms an especially picturesque scene against a backdrop of cherry trees in full bloom.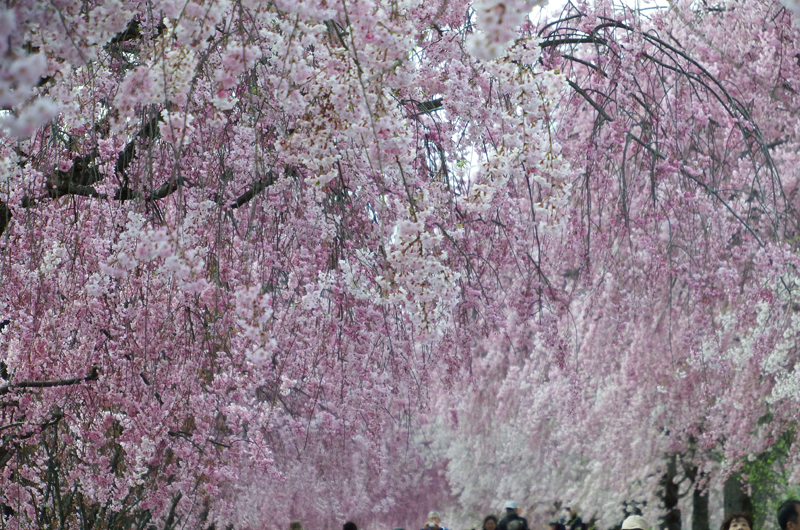 Although the prunus yedoensis – Yoshino Cherry – is more common in Japan, the people of Kitakata chose to plant prunus spaciana – Weeping Cherry – trees. There are various species of Weeping Cherry planted here, which means it is possible to enjoy a variety of colors and scents, as well as a longer blossom season.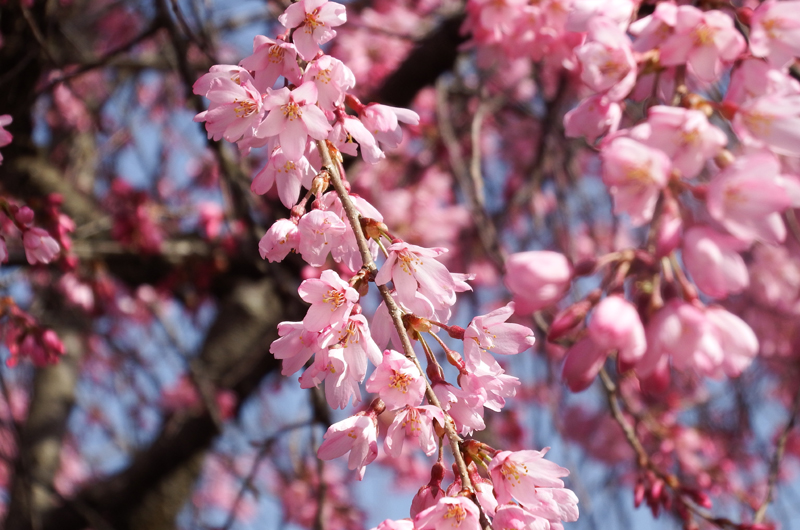 Cherry blossom season here lasts approximately two weeks.
Kitakata has been ranked 1st in a nationwide ranking of Sakura (cherry blossom) viewing destinations, with visitors coming from far and wide. Nicchu Line Weeping Cherry Blossom has become a symbol of springtime in Kitakata.
Not only cherry blossoms – a host of other flowers, such as daffodils and tulips, also bloom here.
A walking event is held towards the end of April, with distances of 2km, 5km or 10km. This "Kitakata Sake and Sakura Walk" is a fun way to enjoy the cherry blossom. During this time of year, there are many pop-up shops on the weekend and other events taking place nearby.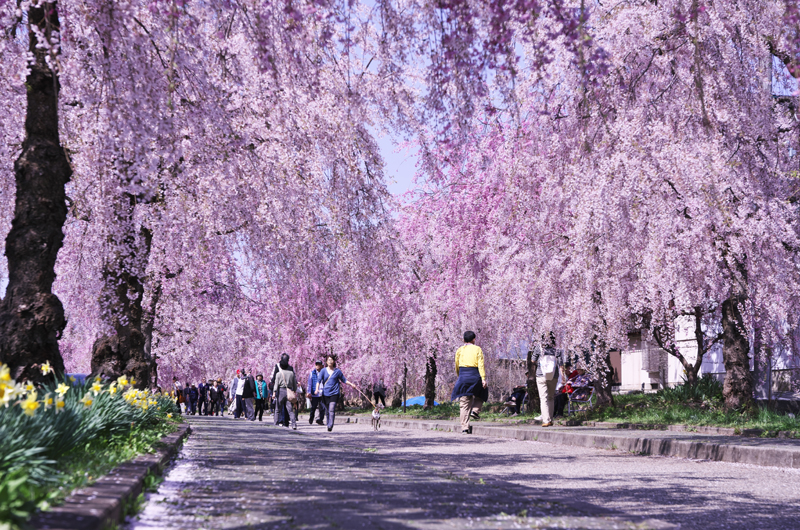 There are many ways to enjoy the cherry blossoms. Dog-walkers enjoy the 6km stroll up and down the path, others bring deck chairs to enjoy the view at their leisure, while photographers try to get the best shot. There are also benches at various points along the path, so everyone can enjoy the blossoms at their own pace.
The view is so beautiful; it feels as though you are walking through a tunnel of Sakura.
Whether walking on your own, or while chatting with your family, you are sure to have a wonderful time.
It is great for both the body and the soul.
I hope you have a chance to come and visit our wonderful weeping cherry trees – the opportunity only comes around once a year!