「Sannokura Plateau Sunflower Fields」
■Address
Kitagongen moriko 857-6, Atsushiokano machi, Kitakata, Fukushima Prefecture
■Tel
0241-36-2115 (Atsushiokano machi Local Tourism Department, Kitakata City Hall)
■Flowering season
Nanohana Flowers: Mid-May - Early June
Sunflowers: Early August - Early September
■Entrance
Free
■Free parking
500 spaces
■Access
By Car:50 min from the Aizuwakamatsu IC exit (Ban-etsu Expressway)
15 min from Kitanosato Michi-no-Eki (Roadside Station)
30 min from Kitakata Station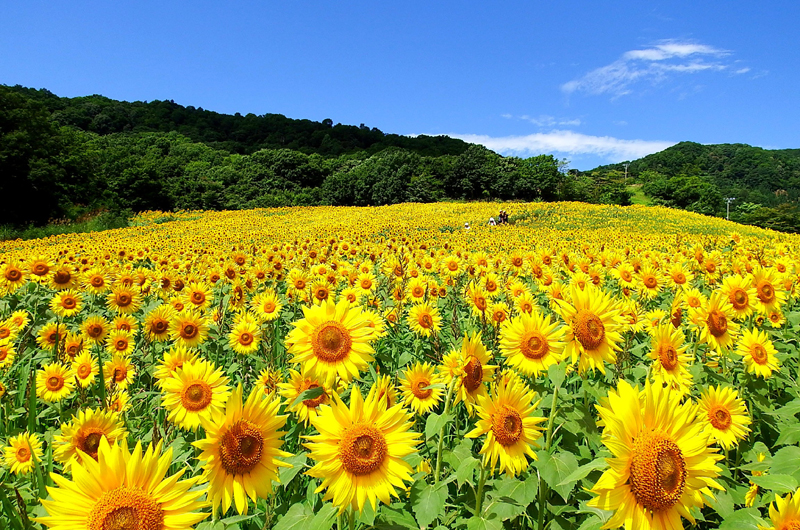 In the summer, Kitakata City is a city of flowers. I visited here in Sannokura, famous for its Sunflower Fields.
The 8.3-hectare Sannokura ski slopes (twice the size of Tokyo Dome!) overlook the Aizu Basin. Not only can you see sunflowers, but also Nanohana flowers, which grow here in spring.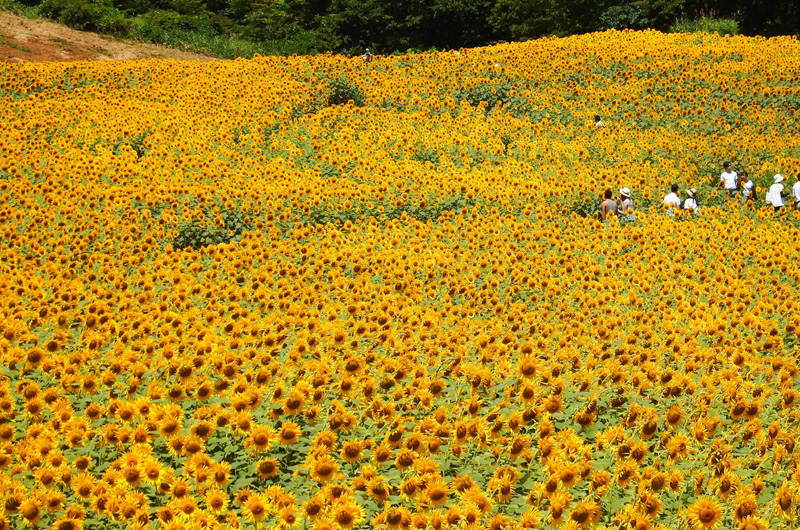 Walking through the field, I was enveloped in a sea of flowers that towered above me. I took a deep breath. The feeling of the wind flowing through the forest of flowers, the smell of the earth. With every sense I could feel the power of nature.
I visited on a sunny day in late August, just after the Obon summer festival. Although the sunflowers weren't in full bloom, they still set a beautiful contrast to the blue sky.
I had to keep wiping the sweat from my brow in the summer heat, but the cool breeze made the walk pleasant. I was glad I'd brought my sneakers – it would have been a tough walk otherwise!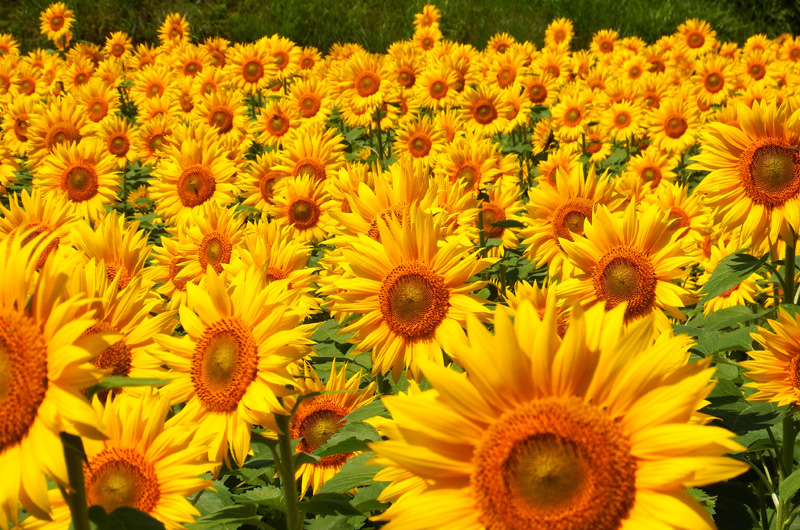 Sannokura boasts the largest collection of sunflower fields in the Tohoku region, comprising around 2.5 million flowers every year. It's like a beautiful giant yellow carpet!
With a 360-degree view of sunflowers as far as the eye can see, no wonder it's such an Instagrammable place.
There was a sign at the entrance with information on the best viewing point and flowering season of each section. There are two special viewing platforms in the west and in the south.
Each section has a slightly different flowering season. So depending on the time you visit different areas may be in bloom, making each visit unique. This also means that the sunflower fields can be enjoyed for a longer period of time.
On the hill overlooking the fields, there is a "lucky bell" which can be rung by visitors – why don't you drop by and make a wish?


In mid-May, with the flowering of the Nanohana flowers, there is often a concert held and the opportunity to pick the flowers (for free!).
The Sannokura Plateau Sunflower festival is held during flowering season, and at night the flowers are lit up. At the end of the season, the remaining sunflowers can be picked for free!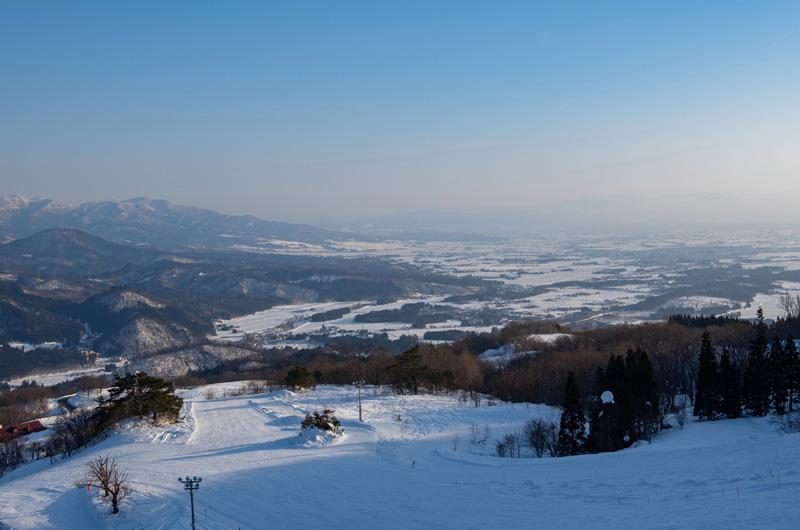 When winter comes, snow falls and many skiers and snowboarders come to enjoy the slopes. Evening sessions aimed at beginners and intermediate skiers run from mid-December through mid-March.
If you're visiting for the flowers, it can get very busy on the weekends, so I recommend coming early to get a parking space.
Alternatively, access via public transport is easy too. Just buy a bus ticket from Kitakata Station during the peak season. Sannokura has something for everyone – all year round!